Unweaving the grid - at Museo del Barrio NY - CIFO grants
_____________________________________________________________
++
.
2019-2020
An Emphasis on Resistance: 2019 CIFO Grants & Commissions Program Exhibition at Museo del Barrio NY (October 30 2019-February 2 2020)
Montes de María: El Caribe que no es costa, es bosque. FLORA ars+natura y Crepes&Waffles. Carrera 12A#83-61 Bogotá
Un Día Después. Exposición colectiva en Galería Casas Riegner.
Art Fairs in 2020:
- UNTITLED San Francisco Booth B15 17.19 January
- ARCO Madrid Stand 9E09 February
- SP Arte-Selected for SOLO projects "CAMADAS DE TEMPO" by Alexia Tala, SP Arte 01–05 April
- ArtBasel 18-21 June
+
Interview by TL Magazine about Nearch project-Art&Archaeology
+
Visit the website of Dearq magazine. Edition#23 features my work Extracts of Permutations in the Creation Section: https://revistas.uniandes.edu.co/toc/dearq/23
.
_______________________________________________
*Download CV: PDF Version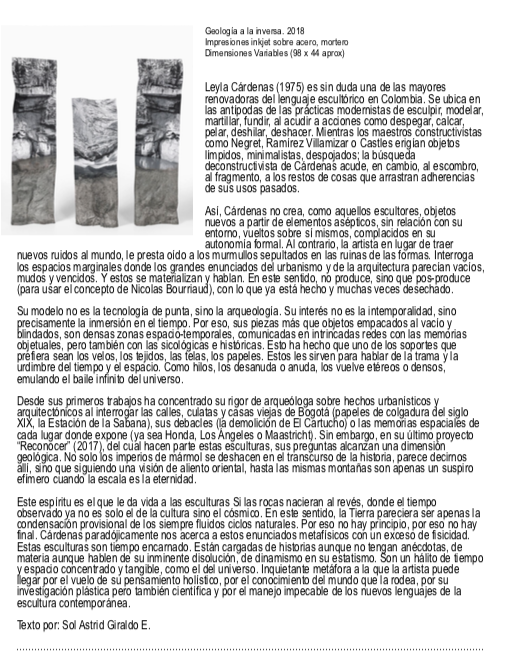 TEXTO POR SOL ASTRID GIRALDO