Interviews:
++++
TL Magazine. About the Materiality of the Invisible, interview with Dr. Holly Wright and Leyla Cárdenas.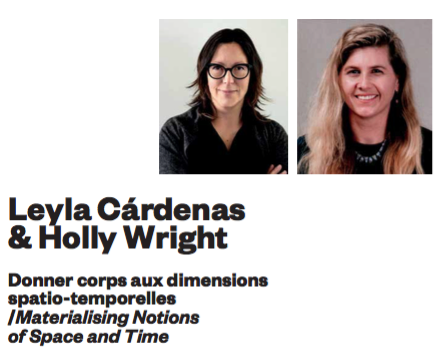 Link PDF
+++
My Art Guides
Bogota-from-an-artist-perspective-an-interview-with-leyla-cardenas
++++
.
REVIEWS / (selection):
Marilyn Fernández. IV BIENAL DE CUENCA. ESTRUCTURAS PEQUEÑAS, SUTILES, DISCRETAS PERO, SOBRE TODO, VIVIENTES. ARTISHOCK MAG
Interview with Jesús Fuenmayor by Chrissie Iles. Universes in Universe
.
Elisa Wouk Almino, Hyperallergic
CHRISTOPHER HAWTHORNE, Architect magazine
THE HOUSE IN AND AS CONTEMPORARY ART By Farrah Karapetian ESSAY
*
Max Benavidez, A Thousand Ways to Go Home Again, HuffingtonPost
· Carolina Miranda, Argentine slums and a Unabomber cabin: How 'Home' at LACMA rethinks ideas about Latin American art. JUNE 15, 2017. L.A.TIMES
· Andrés Gaitán Tobar, Art Nexus 105. article
· Ana Gutiérrez, Modos de Medir el tiempo link artículo:REVISTA ARCADIA
· Susan Morgan, KCET-Artbound.The Impermanent Architecture at California-Pacific Triennial.link to article
· Gabriela Sáenz Laverde, Leyla Cárdenas y la geología de Bogotá. Revista Diners
· Samuel Morales, Exposición en Casas Riegner: Viaje al centro del tiempo perdido.StopArt
· Elisa Turner, Leyla Cárdenas Opens New Chapter with Construction Debris. Hamptonsarthub
· Monica Uszerowicz, An Artist Excavates the Past Lives of a Gallery's Building. Hyperallergic
-